Founded in March 1998 and with over 50 collective years of experience, we have concentrated our resources on contracting to large government departments, agencies and multinational organisations. We promote and share in the growth of our people and the organisations that we work with.
Our focus is based on a win-win philosophy. With our processes and methodologies of doing business with an 'open book', we are an employer of choice in Australia. Being an Australian-owned and Canberra operated organisation, we are able to give our clients exclusive insight into the current and changing IT market.
At Infinite Consulting we are proud of our business ethics and commitment to our contractors. Our method of dealing in good faith and transparency forms the type of relationship every contractor and hiring manager should be entitled to.
Above all, we are passionate, focused and enjoy what we do.
We are members of The Association of Professional Staffing Companies (APSCo) and are bound by its code of conduct. We are a licensed Employment Agency in the ACT. 
Infinite Consulting warrants that it has all licences and insurances to meet all legislative requirements to perform services in Australia.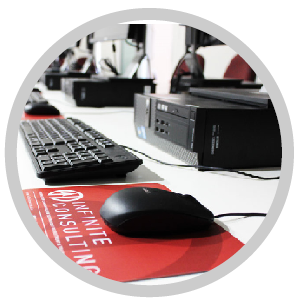 Our Team
At Infinite Consulting we employ the best recruitment specialists in Canberra. You can be assured our staff are professional and well-equipped to meet your recruitment needs...
Testimonials
We are fortunate to work with a wide variety of professional companies, fulfilling IT employment needs and providing top-quality training and meeting facilities. See what they have to say about working with us...